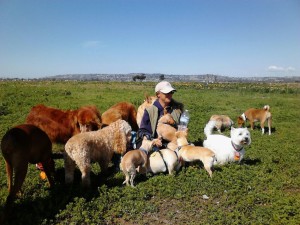 Sandy's Animal Services originated in 1999 when I made a transition from working in an accounting office to pet sitting. I have a wide range of experience that contributes to my expertise.
My volunteer work at the San Diego Humane Society greatly increased my knowledge and passion for animals. I've cared for dogs, cats, rabbits, hamsters, and barn yard animals (tortoises, chickens, ducks, sheep, goats, even Wiley the Crow) and ensured their safety.
I've also brought many foster animals to my home. Our family has provided pets with a safe place until they were adopted. From mother cats with kittens, to puppies with broken legs, we became their caretakers and sole
supporters.
I have my own wonderful pets, Doc (chihuahua), Toby (chihuahua), Ladybug (retriever mix), and look forward to meeting yours!