"Sandy and her Mom, Georgie, have been taking care of my dogs since I moved to San Diego in 2000. I was impressed with Sandy from the start: the right credentials and good references were important to me, and Sandy had them. I like that pet sitting is her passion AND her full-time profession. At the first meeting, she spent as much time getting to know my dogs as getting to know me. My dogs have been crazy about her from that moment on! Sandy and Georgie have provided daily visits and my dogs have also stayed at "puppy camp" while I am out of town. They are now part of my family -- there is nothing that I wouldn't trust them with -- they are reliable, trustworthy and caring. I have gladly referred Sandy's Animal Services to other pet-owners and who have thanked me for the referral. If Roxie and Nicky could talk, they'd provide an enthusiastic testimonial, too! Sandy is simply the best!"
- Jean Whitney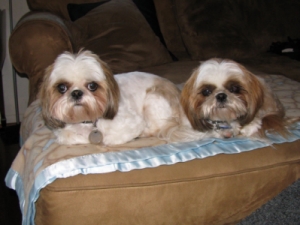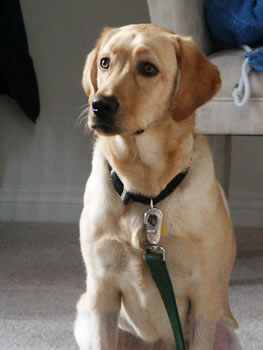 "Sandy has been a part of our home, our lives and our dogs' lives for almost four years. She has walked, fed, cared for and loved our dogs without inhibition. We have never question their safety or Sandy's sense of responsibility - she is dependable, loving and has excellent judgment. Every dog is special to her, and she sees each dog's uniqueness and individual gifts - she forms a relationship with each one. She takes our labrador, Max, and many others to parks and the bay regularly, where they all romp and roll and jump for much of the day. Whenever Sandy pulls up to the house, Max jumps up and down and runs out to her without a backward glance, which is most unusual because Max is very attached to our home. He gleefully joins Sandy and the other dogs, and I believe he thinks of them as part of his family. I know we think of Sandy that way. Sandy's love and care are an integral part of our lives, and we are so grateful to have her, and to know our dog is loved so much during those times when we can't be with him."
- Julie Vogelzang
"We trust Sandy completely for the safety and well-being of our precious dog: 'Chessie' (who she affectionately calls: 'Chessa'). She obviously loves animals and gives them the individual attention they need. Whenever we need her, we don't hesitate to call Sandy for daytime activities or overnight stays. We can rely on her expertise, sensitivity and professionalism on every level of animal care."
- Claire Coombs and Scott Tisdale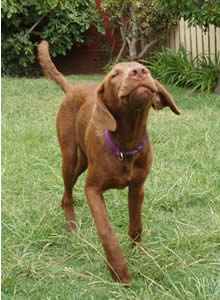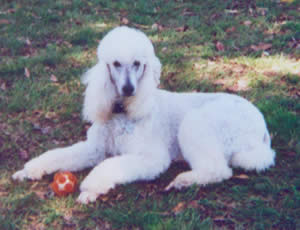 "Reliable! Reliable! Reliable!"
- Dr. Barbara Ozerof
"Tuscany, the little brown boy, died on November 14th (Monday) 2005. Sandy came to see Tuscany just before his death on Friday evening the 11th. Tuscany was miserable and out of himself. But when Sandy came in the room he recognized her and wagged his tail vigorously many times. I know Tuscany wanted to say "Thank you!" to Sandy in loving recognition; a "Fiesta Island Medal of Honor" award which was dog equivalent to a Congressional Medal of Honor. Tuscany wanted to show Sandy his deep gratitude for her dedication to the happiness of all dogs under her care. His last tail wagging was the best testimonial to Sandy. He loved her so very much! We have known Sandy for over 5 years. We had a serendipitous encounter on a sunny day at Balboa Park. Since then we have come to know her well. We travel often out of the country for many days. From our first being away from home we know that this is the person that we could entrust our animals and our home. She is intelligent, conscientious, and hard working, she chose this profession because of love of animals. What impressed me was her uncanny ability to sense and connect with dogs; she definitely has a sixth sense about animals. She has a deep respect for individuals personality of dogs. Her philosophy; with patience and kindness many dogs would respond and blossom. She has a strong character and I respect her for that. Sandy, your are one of a kind and Tuscany will always remember the fun and the Fiesta Island gang."
- Teruko McEachern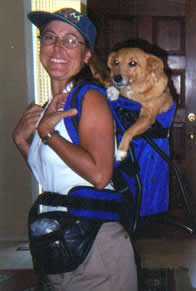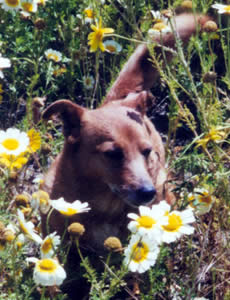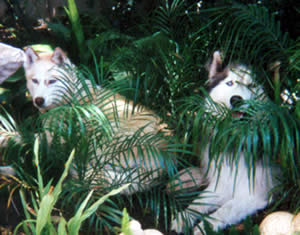 "Since we don't have children our dogs are our kids and they have been lovingly taken care of by Sandy. Our current "child" Cinder, a gorgeous Siberian Husky, has special medical needs. As a severely epileptic dog she is on 2 medications, twice a day. Sandy is diligent with the accurate and timely dispensing of the meds, which is important, because Cinder's life depends upon it. Sandy takes care of Cinder and speaks to her like she was HER child. When she comes into our home Cinder goes crazy! She so loves to interact with Sandy which is interesting because Cinder is often a bit scared of non-family members! There have been times when my husband and I have been stuck in LA and were not going to get home on time to medicate Cinder. At the last minute we called Sandy and she always comes to the rescue with no notice! Sandy is a life saver! Sandy saved the life of Carrera when she found her in our back yard having just been bitten by a rattle snake. She saw a tiny bit of blood on her paw and examined it and found a puncture that she felt resembled a snake bite. She immediately rushed her to emergency. If it had not been for Sandy's keen sense of observation Carrera could have died because time is of the essence in snake bite cases! Our only complaint about Sandy is that she gives our dogs so much love and attention that they miss her so much when she leaves. She is a treasure because she so relates to 4-pawed creatures and she truly loves her business. We have enjoyed our affiliation with her and are lucky to have her in our lives."
- Janis & Ryan Deady